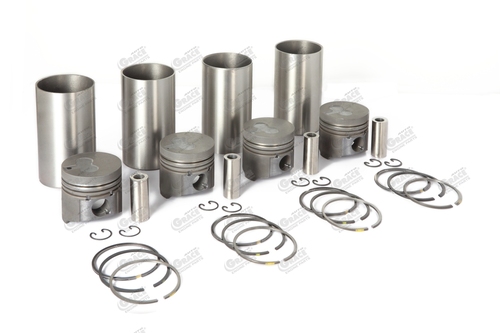 Cylinder Liners
Product Specifications
Engine Part

Cylinder Liner
Used in Automotive Engines

1 Year
Product Description
Engine Cylinder Liners
We are a professionally managed fast growing company with impressive track record in manufacturing a complete range of Cylinder Liners. A wide range of liners is manufactured at our technically advanced production unit in varied specifications. These types of Cylinder Liners are highly reckoned at global market due to its excellent durability, accurate structure and corrosion resistance feature. All the liners offered to our esteemed clients are in compliance with the industrial predefined standards and norms.
Further Details
Attributes
Uniform metallurgical composition along with micro structure
Standard material grades are used to enable it to withstand higher ignition pressures at higher speed
Brilliant wear properties ensuring maximum liner and piston ring life
Honing processes to ensure finer surface finishing and reduce oil consumption
Range
Air-Cooled (Finned) Blocks
Dry Sleeves (Fully-Finished and Semi-Finished)
Wet Liners
Sleeves Made of
Grey Cast Iron of GG25 Grade and any other material required by customer)
Steel and Chrome Plating on Bore
Specifications
The dry sleeves are developed in 'cast-in fit', slip fit or force (press) fit
Intervention between outer diameter as well as engine block wall according to fit-type from 0.050 to 0.075 mm
Product Range
We can design cylinder liners according to the needs or drawings. We have designed over 5000 different liners from 50-250 mm diameter.
(All OE/ OTHER PART NUMBERS ARE FOR IDENTIFICATION REFERENCE ONLY)
| | | | | | |
| --- | --- | --- | --- | --- | --- |
| GG NO. | PART NAME | ENGINE MODEL | VEHICLE MODEL | OTHER REF NO | UOM |
| LNR5455.01 | CYLINDER LINER | ANDORIA - 4C90, 4CT90 | - | AE:150612 | PC |
| LNR5246.01 | CYLINDER LINER | ASIA - KHAUDI - 1Y, 1Z, 3D, AUDI - 1Y, 1Z, 3D, | ASIA - COSMOS, RHINO | AE:SJ351249/20 | PC |
| LNR5447.03 | CYLINDER LINER | AAS, AFF, AFN, AJM, AMF, ATZ, BHC, BKE AUDI - 1Y, 1Z, 3D, AAS, AFF, AFN, | AUDI - 100, 100 AVANT, 80, 80 AVANT, A2, A4, A4 AVANT, A6, A6 AVANT, CABRIOLET | - | |
| LNR5447.01 | CYLINDER LINER | AJM, AMF, ATZ, BHC, BKE, VOLKSWAGEN - 1X, AAB | VOLKSWAGEN - CADDY, CALIFORNIA, CARAVELLE, MULTIVAN, TRANSPORTER T4 BOX, TRANSPORTER T4 BUS, TRANSPORTER T4 FLATBED / CHASSI SAUDI - 80, 80 AVANT, A3, A4, A4 AVANT, A6, A6 AVANT. | KS:89434190, MAHLE:029WV2 0 | PC |
| LNR 5447.02 | CYLINDER LINER | AUDI - 1Z, AGR, VOLKSWAGEN - AHF, ASV | CABRIOLET, VOLKSWAGEN - BORA, BORA KOMBI, GOLF IV, GOLF IV VARIANT, POLO CLASSIC, POLO VARIANT | - | PC |
| LNR 5446.01 | CYLINDER LINER | AUDI - CY, DE, JK, NC, RA, SB, YJ, VOLKSWAGEN - CK, ZB, ZC | AUDI - 100, 100 AVANT, 80, 90, VOLKSWAGEN - GOLF I, JETTA I, PASSAT, PASSAT VARIANT, SCIROCCO | KS:89049190, MAHLE:029WV1 1 | PC |
| LNR 5446.04 | CYLINDER LINER | AUDI - CY, YJ, ZB, ZC | AUDI - 80, 90 | - | PC |
| LNR 5446.02 | CYLINDER LINER | AUDI - YJ, VOLKSWAGEN - CK, ZB, ZC | AUDI - 80, VOLKSWAGEN -GOLF I, JETTA I, PASSAT, PASSAT VARIANT, SCIROCCO | KS:89049190, MAHLE:029WV1 1 | PC |
PROCUCT NAME

OEM

ENGINE MODEL

BORE(mm)

TYPE

SIZE

DESCRIPTION

CYLINDER LINER

ANDORIA




90.000

DRY, FF







CYLINDER LINER

BEDFORD

J6, 220, 330

103.175

DRY, FF

STD




CYLINDER LINER

BEDFORD

J6, 220, 330

103.175

DRY, SF

STD




CYLINDER LINER

BEDFORD

381

104.775

DRY, SF

STD

OD 109.500mm, L 260.700mm

CYLINDER LINER

BEDFORD

292

98.425

DRY, FF







CYLINDER LINER

BEDFORD

381

104.775

DRY, SF

STD

OD 109.630mm, L 260.350mm

CYLINDER LINER

BEDFORD

381

104.775

DRY, SF

060




CYLINDER LINER

BEDFORD

381

104.775

DRY, SF

STD

OD 109.630mm, L 260.700mm

CYLINDER LINER

BEDFORD

381

104.775

DRY, SF

080




CYLINDER LINER

BELARUS

MTZ 80

110.000

WET, FF







CYLINDER LINER

BENDIX

TF 400

51.638

DRY, SF

STD




CYLINDER LINER

BENDIX

TF 500

62.738

DRY, SF

STD




CYLINDER LINER

BENDIX

TF 501

65.530

DRY, SF

STD




CYLINDER LINER

CASE

TRACTOR580 H

98.476

DRY, FF







CYLINDER LINER *

CASE

TRACTOR4490

127.010

WET, FF







CYLINDER LINER

CATERPILLAR

D353, D379, D398, D399

158.750

WET, FF







CYLINDER LINER *

CATERPILLAR

D6, D334, 3304, 3306, D330, D333C, 3306D, 3306B, 167

120.650

WET, FF

STD

PHOSPHATED

CYLINDER LINER

CATERPILLAR

3204

114.300

DRY, SF







CYLINDER LINER

CATERPILLAR

D3116

105.000

DRY, SF

STD




CYLINDER LINER

CATERPILLAR

3406, 3408, 3412

137.160

WET, FF

STD




CYLINDER LINER *

CATERPILLAR

3508, 3512, 3516

170.098

WET, FF

STD




CYLINDER LINER *

CATERPILLAR

D342C, 342T, 64, D386,

146.050

WET, FF

STD




CYLINDER LINER

CATERPILLAR

D330A, 955X, D4C, 955H, 951B, D4D, 944,

114.300

WET, FF

STD




CYLINDER LINER

CATERPILLAR




114.300

WET, FF







CYLINDER LINER

CHEVROLET / GMC

350

101.600

DRY, SF

010




CYLINDER LINER

CHEVROLET / GMC

350

101.600

DRY, SF




L 250.820mm

CYLINDER LINER

CHEVROLET / GMC

350

101.600

DRY, SF




L 203.200mm

CYLINDER LINER

CHEVROLET / GMC

350

101.600

DRY, SF

STD




CYLINDER LINER

CHEVROLET/GMC

153

98.425

DRY, SF







CYLINDER LINER

CHRYSLER

170, 198, 215 Slant 6

86.360

DRY, SF







CYLINDER LINER

CHRYSLER

245

95.250

DRY, SF







CYLINDER LINER

CHRYSLER

265, 318

99.314

DRY, SF







CYLINDER LINER

CITROEN

U25, M25, B25

93.000

DRY, FF







CYLINDER LINER

CLAYTON DEWANDRE

SC6

66.680

DRY, FF

STD




CYLINDER LINER

CONTINENTAL

Z120

85.750

WET, FF







CYLINDER LINER

CONTINENTAL

Z129, Z134

85.750

WET, FF







CYLINDER LINER *

CUMMINS

V8210, V6155

117.475

WET, FF




L 165.660mm, PHOSPHATED

CYLINDER LINER

CUMMINS

V8210, V6155

117.475

WET, FF




L 163.575mm, PHOSPHATED

CYLINDER LINER

CUMMINS

V555, VT225, VT225

117.480

WET, FF




PHOSPHATED

CYLINDER LINER

CUMMINS

3BT, 4BT, 6BT

102.000

DRY, SF







CYLINDER LINER *

CUMMINS

6CT 8.3

114.000

WET, FF




PHOSPHATED

CYLINDER LINER *

CUMMINS

6CT 8.3

114.000

WET, FF




PHOSPHATED

CYLINDER LINER *

CUMMINS

NT855, NH250

139.700

WET, FF

STD

PHOSPHATED

CYLINDER LINER

CUMMINS

NT855

139.700

WET, FF

020

PHOSPHATED

CYLINDER LINER

CUMMINS

NT855, NTC475, N14

139.700

WET, FF

010




CYLINDER LINER *

CUMMINS

LTA 10, L10

125.000

WET, FF

STD

OD 137.350mm, L 241.000mm, CT 16.000mm

CYLINDER LINER *

CUMMINS

LTA 10, L 10

125.000

WET, FF

STD

OD 137.410mm, L 239.770mm, CT 14.980mm

CYLINDER LINER *

CUMMINS

KT 1150

158.750

WET, FF




PHOSPHATED

CYLINDER LINER

DAF

DNTD620

104.200

DRY, FF

STD




CYLINDER LINER

DAF

DF, DT, DTD 615

104.200

DRY, FF

STD




CYLINDER LINER

DAF

DH825, DHU825, DU825, DHTD825, HS200,, HT168, DKL

118.000

DRY, FF

STD




CYLINDER LINER

DAF




118.000

DRY, SF







CYLINDER LINER

DAF

DKS, DKSE, DKXEDKA, DKDL, DKL, KT191, L210, WS222, WS225, WS259, WS282, WS295, WS315, W268

130.000

DRY, FF

STD




CYLINDER LINER

DAF

1160

130.000

DRY, FF

STD




CYLINDER LINER

DAF

XD 3T

94.000

DRY, FF

STD




CYLINDER LINER

DAIHATSU

B

95.000

DRY, SF







CYLINDER LINER

DAIHATSU

DG

88.000

DRY, FF

STD




CYLINDER LINER

DAIHATSU

DG

88.000

DRY, SF

STD




CYLINDER LINER

DAIHATSU

DL

92.000

DRY, FF

STD




CYLINDER LINER

DAIHATSU

DL

92.000

DRY, SF

STD




CYLINDER LINER

DAIHATSU

4K

74.981

DRY, SF

STD




CYLINDER LINER

DAIHATSU

5R

87.300

DRY, SF







CYLINDER LINER

DAIHATSU

12R

80.500

DRY, SF

010




CYLINDER LINER

DAIHATSU

1Y, 2Y

85.725

DRY, SF







CYLINDER LINER

DATSUN

1200

73.000

DRY, SF

SHORT




CYLINDER LINER

DATSUN

1300

75.000

DRY, SF

SHORT




CYLINDER LINER

DATSUN

1300

75.000

DRY, SF

THIN




CYLINDER LINER

DATSUN

1300

75.000

DRY, SF

LONG




CYLINDER LINER

DATSUN

1300L

75.000

DRY, SF

NEW




CYLINDER LINER

DAVID BROWN

AD3/55, AD4/55, AD3/49, AD4/49,

100.046

DRY, SF

STD




CYLINDER LINER

DAVID BROWN

AD4, 47

92.070

WET, FF







CYLINDER LINER

DETROIT DIESEL

GM 53

98.425

WET, FF

STD

L 250.280mm, CD 121.460mm, PHOSPHATED

CYLINDER LINER *

DETROIT DIESEL

GM 53

98.425

WET, FF

STD

L 251.700mm, CD 121.385mm, PHOSPHATED

CYLINDER LINER *

DETROIT DIESEL

92 SERIES

122.936

WET, FF

STD

PHOSPHATED

CYLINDER LINER *

DETROIT DIESEL

GM 149

146.050

WET, FF

STD

PHOSPHATED

CYLINDER LINER

DETROIT DIESEL

8.2

107.500

DRY, SF

STD




CYLINDER LINER

DETROIT DIESEL

71 SERIES

107.950

DRY, FF

STD

PHOSPHATED

CYLINDER LINER

DETROIT DIESEL

71 SERIES

107.950

DRY, FF

010

PHOSPHATED

CYLINDER LINER

DETROIT DIESEL

71 SERIES

107.950

DRY, FF

020

PHOSPHATED

CYLINDER LINER

DETROIT DIESEL

71 SERIES

107.950

DRY, FF

001

PHOSPHATED

CYLINDER LINER

DETROIT DIESEL

71 SERIES

107.950

DRY, FF

002

PHOSPHATED

CYLINDER LINER

DETROIT DIESEL

71 SERIES

107.950

DRY, FF

003

PHOSPHATED

CYLINDER LINER

DETROIT DIESEL

71 SERIES

107.950

DRY, FF

030

PHOSPHATED

CYLINDER LINER

DETROIT DIESEL

71 SERIES

107.950

DRY, FF

005

PHOSPHATED

CYLINDER LINER

DETROIT DIESEL

71 SERIES

107.950

WET, FF

STD

PHOSPHATED

CYLINDER LINER *

DETROIT DIESEL

S50, S60

130.000

WET, FF

STD

PHOSPHATED

CYLINDER LINER *

DETROIT DIESEL

S50, S60

130.000

WET, FF

STD




CYLINDER LINER

DETROIT DIESEL




95.250

DRY, SF

STD




CYLINDER BLOCK

DEUTZ

FL 912

100.000

AIR COOLED

STD




CYLINDER BLOCK

DEUTZ

FL913

102.000

AIR COOLED

STD




CYLINDER LINER

FIAT

8140.27

93.000

DRY, SF







CYLINDER LINER

FIAT

8140.27

93.000

DRY, FF

STD




CYLINDER LINER

FIAT

8140.27

93.000

DRY, SF







CYLINDER LINER

FIAT

8140.23, IVECO DAILY

94.400

DRY, SF







CYLINDER LINER *

FIAT

8361.45

115.000

WET, FF

STD




CYLINDER LINER

FIAT

8031.04

103.000

DRY, SF

STD




CYLINDER LINER

FIAT

8040.04, 8060.04,8060.24

103.000

DRY, SF

STD




CYLINDER LINER

FIAT

8060.24

103.000

DRY, FF

STD




CYLINDER LINER

FIAT

8031.04, 8035.04, 8040.04

103.000

DRY, SF

STD




CYLINDER LINER

FIAT

8060.24,8031.04.8035.04

103.000

DRY, SF

STD




CYLINDER LINER

FIAT

8040.04, 8060.04,8060.24

103.000

DRY, SF

STD




CYLINDER LINER

FIAT

8025.02, 8035.02, 8035.04

100.000

DRY, SF

STD




CYLINDER LINER

FIAT

8035.02

100.000

DRY, SF

STD

WITHOUT COLLAR

CYLINDER LINER

FIAT

8035.02

100.000

DRY, SF

020




CYLINDER LINER

FIAT

8035.02

100.000

DRY, SF

040




CYLINDER LINER

FIAT

8035.02

100.000

DRY, SF

STD

WITH COLLAR

CYLINDER LINER

FIAT

8035.02

100.000

DRY, SF

020




CYLINDER LINER

FIAT

8025.02, 8035.02, 8035.04

99.800

DRY, SF







CYLINDER LINER

FIAT

8035.02

100.000

DRY, SF







CYLINDER LINER

FIAT

8045.01, 8035.01

95.000

DRY, FF

STD




CYLINDER LINER

FIAT

8045.01, 8035.01

95.000

DRY, SF

STD




CYLINDER LINER *

FIAT

CN3D, CO3D, CP380, CP3D

110.000

WET, FF

STD

PHOSPHATED

CYLINDER LINER

FIAT

8065.25

104.000

DRY, FF

STD




CYLINDER LINER

FIAT

8040.05, 8060.05

104.000

DRY, SF

010




CYLINDER LINER

FIAT

8065.25

104.000

DRY, SF

STD




CYLINDER LINER

FIAT

8040.25

104.000

DRY, SF







CYLINDER LINER

FIAT

8040.05, 8060.05

104.000

DRY, SF

STD




CYLINDER LINER

FIAT

8215.02, 22, 8215.02

137.000

DRY, FF

STD




CYLINDER LINER

FIAT

697

137.000

DRY, FF

010




CYLINDER LINER

FIAT

697

137.000

DRY, FF

STD




CYLINDER LINER

FIAT

203A, 61, 203H, 61

130.000

DRY, SF

STD




CYLINDER LINER

FIAT

615

85.000

DRY, FF







CYLINDER LINER

FIAT

615

85.000

DRY, SF




WITHOUT COLLAR

CYLINDER LINER

FIAT

615

85.000

DRY, SF




WITH COLLAR

CYLINDER LINER

FIAT

B25, 637

93.000

DRY, FF







CYLINDER LINER

FIAT

M707BT, 149A154B, 160A, 280AM718AT, 835AM

82.600

DRY, SF







CYLINDER LINER

FIAT

450

95.000

DRY, SF

150




CYLINDER LINER

FIAT

450

95.000

DRY, SF

275




CYLINDER LINER

FORD

2000, 2600, 3000, 3600, 5000, 5600

106.680

DRY, SF

STD




CYLINDER LINER

FORD

2000, 2600, 3000, 3600, 5000, 5600

106.680

DRY, SF

020




CYLINDER LINER

FORD

2000, 2600, 3000, 3600, 5000, 5600

106.680

DRY, SF

040




CYLINDER LINER

FORD

D0910, D1010, D1020, 2701E, 2704E, 2709E, FO360

104.770

DRY, SF

STD




CYLINDER LINER

FORD

2704 (360T)

104.770

DRY, SF

020




CYLINDER LINER

FORD

201cuin, 4000, 4610, 7000, 5000, 6600, 8000, 8600, 9600, 9700

111.760

DRY, SF

STD




CYLINDER LINER

FORD

201cuin, 4000, 4610, 7000, 5000, 6600, 8000, 8600, 9600, 9700

111.778

DRY, SF

STD




CYLINDER LINER

FORD

201cuin, 4000, 4610, 7000, 5000, 6600, 8000, 8600, 9600, 9700

111.778

DRY, SF

030




CYLINDER LINER

FORD

201cuin, 4000, 4610, 7000, 5000, 6600, 8000, 8600, 9600, 9700

111.778

DRY, SF

040




CYLINDER LINER

FORD

201cuin, 4000, 4610, 7000, 5000, 6600, 8000, 8600, 9600, 9700

111.778

DRY, SF

060




CYLINDER LINER

FORD

201cuin, 4000, 4610, 7000, 5000, 6600, 8000, 8600, 9600, 9700

111.778

DRY, SF

080




CYLINDER LINER

FORD

201cuin, 4000, 4610, 7000, 5000, 6600, 8000, 8600, 9600, 9700

111.778

DRY, SF

100




CYLINDER LINER

FORD

360 TURBO

104.775

DRY, FF







CYLINDER LINER

FORD

2704, 360 TURBO

104.770

DRY, FF







CYLINDER LINER

FORD

4000

110.400

DRY, SF







CYLINDER LINER

FORD

201CUIN, 4000

111.760

DRY, SF

STD




CYLINDER LINER

FORD

201CUIN, 4000

111.760

DRY, SF

025




CYLINDER LINER

FORD

120 (0.090)

81.000

DRY, FF

STD




CYLINDER LINER

FORD

120

81.000

DRY, FF

STD




CYLINDER LINER

FORD

132

87.310

DRY, FF

STD




CYLINDER LINER

FORD

201cuin, 4000, 4610, 7000, 5000, 6600, 8000, 8600, 9600, 9700

111.760

DRY, SF

STD




CYLINDER LINER

FORD

172 CU INCH

99.060

DRY, FF







CYLINDER LINER

FORD

9N, 2N, 8N

80.950

DRY, FF







CYLINDER LINER

FORD

M4000

105.000

DRY, SF







CYLINDER LINER

FORD

XD3P

94.000

DRY, FF

STD




CYLINDER LINER *

FORD

CORCEL, ESCORT

77.000

WET, FF







CYLINDER LINER

FORD

2708E, 2703E, 2703E

100.000

DRY, SF







CYLINDER LINER

FORDSON MAJOR

592E

100.000

WET, FF

STD

L 187.500mm

CYLINDER LINER

FORDSON MAJOR

592E

100.000

WET, FF

STD

L 187.000mm

CYLINDER LINER

FORDSON MAJOR

592E, 4D, 6D, 590E

100.000

WET, FF

STD




CYLINDER LINER

GARDNER

LX, LXB

120.650

DRY, SF

STD




CYLINDER LINER

GARDNER

LW

107.950

DRY, SF

STD

L 292.100mm

CYLINDER LINER

GARDNER

LW

107.950

DRY, SF

STD

L 304.800mm

CYLINDER LINER

HINO

EF 500, 550

135.000

WET, FF







CYLINDER LINER

HINO

B

95.000

DRY, SF







CYLINDER LINER

HINO

B

95.000

DRY, FF







CYLINDER LINER

HINO

H06C

108.000

DRY, SF




PHOSPHATED

CYLINDER LINER

HINO

H06C

108.000

DRY, FF




PHOSPHATED

CYLINDER LINER

HINO

W04D, W06D

104.000

DRY, FF

STD

PHOSPHATED

CYLINDER LINER

HINO

3B

102.000

DRY, FF







CYLINDER LINER

HINO

3B

102.000

DRY, SF







CYLINDER LINER *

HINO

EH700, H07C

110.000

DRY, FF

020

PHOSPHATED

CYLINDER LINER

HINO

EH700, H07C

110.000

DRY, SF

020




CYLINDER LINER

HINO

EK100

137.000

WET, FF

STD




CYLINDER LINER

HINO

EF750

137.000

WET, FF







CYLINDER LINER

HINO

EH100

105.000

DRY, FF

STD

L 206.000mm

CYLINDER LINER

HINO

EH100

105.000

DRY, FF

STD

L 204.000mm

CYLINDER LINER *

HINO

EB300

120.000

WET, FF







CYLINDER LINER

HINO

J08C, J08CT

114.000

DRY, FF







CYLINDER LINER

HYUNDAI

8DC91, 8DC91A

135.000

DRY, FF







CYLINDER LINER

HYUNDAI

8DC90

135.000

WET, FF







CYLINDER LINER

HYUNDAI

4G62

79.000

DRY, SF







CYLINDER LINER

HYUNDAI

4D34

104.000

DRY, SF







CYLINDER LINER

HYUNDAI

H100

91.100

DRY, SF

020




CYLINDER LINER

HYUNDAI

H100, D4BB, D4BF

91.100

DRY, SF







CYLINDER LINER

HYUNDAI

4DR5, 6DR5

92.000

DRY, SF







CYLINDER LINER

HYUNDAI

4D31

100.000

DRY, SF







CYLINDER LINER

HYUNDAI

3500

100.000

DRY, SF







CYLINDER LINER

HYUNDAI

3500

100.000

DRY, SF

030




CYLINDER LINER

HYUNDAI

4D32

104.000

DRY, SF







CYLINDER LINER

HYUNDAI

3600

104.000

DRY, SF

STD




CYLINDER LINER

HYUNDAI

3600

104.000

DRY, SF

030




CYLINDER LINER

HYUNDAI

KE44, KE46

73.025

DRY, SF







CYLINDER LINER

HYUNDAI

4G41

76.200

DRY, SF







CYLINDER LINER

HYUNDAI

4D33

108.000

DRY, SF







CYLINDER LINER

HYUNDAI

H100

91.100

DRY, SF

OVER SIZE




CYLINDER LINER

HYUNDAI

6D22

130.000

WET, FF







CYLINDER LINER

IFA

W50

120.000

WET, FF







CYLINDER LINER

INTERNATIONAL (IHC)

DT360

101.600

WET, FF

STD




CYLINDER LINER

INTERNATIONAL (IHC)

DT360

101.880

WET, FF

010




CYLINDER LINER *

INTERNATIONAL (IHC)

DT466, 1440, 4100

109.220

WET, FF

STD

L 239.500mm, CT 9.000mm

CYLINDER LINER

INTERNATIONAL (IHC)

DT466, 1440, 4100

109.220

WET, FF

STD

L 238.250mm, CT 8.950mm

CYLINDER LINER

INTERNATIONAL (IHC)

DT466, 1440, DT360

109.260

WET, FF

STD




CYLINDER LINER

INTERNATIONAL (IHC)

9 L

114.300

DRY, SF







CYLINDER LINER

INTERNATIONAL (IHC)

BD154

88.900

WET, FF

STD




CYLINDER LINER

INTERNATIONAL (IHC)

D179, D239, D358, DD179, DD239, UD179, UD358, DT239, DT358

98.425

WET, FF

STD




CYLINDER LINER

INTERNATIONAL (IHC)

DT 402, D 246, D 268

100.000

WET, FF

STD

OD 110.750mm, L 216.150mm

CYLINDER LINER

INTERNATIONAL (IHC)

DT402, D246, D268

100.000

WET, FF

STD

OD 110.650mm, L 215.000mm

CYLINDER LINER

INTERNATIONAL (IHC)

D206, D310

98.425

WET, FF

STD




CYLINDER LINER

INTERNATIONAL (IHC)

BD264, B450

101.600

DRY, FF







CYLINDER LINER

ISUZU

4JG2

95.400

DRY, FF







CYLINDER LINER

ISUZU

4EC1

76.000

DRY, SF







CYLINDER LINER

ISUZU

DA120

100.000

WET, FF







CYLINDER LINER

ISUZU

6BB1, 6BD1

102.000

DRY, SF







CYLINDER LINER

ISUZU

C240, C190

86.000

DRY, SF







CYLINDER LINER

ISUZU

C223

88.000

DRY, SF

STD




CYLINDER LINER

ISUZU

C223

88.000

DRY, FF

STD




CYLINDER LINER

ISUZU

C223

88.000

DRY, SF







CYLINDER LINER

ISUZU

4JA1

93.000

DRY, SF







CYLINDER LINER

ISUZU

4JB1T

93.000

DRY, SF

STD




CYLINDER LINER

ISUZU

4BA1

98.000

DRY, SF







CYLINDER LINER

ISUZU

6BD1, 6BB1

102.000

DRY, SF







CYLINDER LINER

ISUZU

4HF1

112.000

DRY, SF

0.500




CYLINDER LINER

ISUZU

4HF1

112.000

DRY, SF







CYLINDER LINER

ISUZU

4HF1

112.100

DRY, FF

STD

PHOSPHATED

CYLINDER LINER

ISUZU

4HF1

112.000

DRY, FF







CYLINDER LINER

ISUZU

4HF1

112.000

DRY, SF

0.250




CYLINDER LINER

ISUZU

6HH1

115.000

DRY, SF

0.250




CYLINDER LINER

ISUZU

6HH1

115.000

DRY, SF

0.500




CYLINDER LINER

ISUZU

6HH1

115.000

DRY, SF







CYLINDER LINER

ISUZU

6HH1

115.000

DRY, FF




PHOSPHATED

CYLINDER LINER

ISUZU

6HH1

115.000

DRY, SF

0.250




CYLINDER LINER

ISUZU

4BC2

102.000

DRY, FF







CYLINDER LINER

ISUZU

4BC2

102.000

DRY, SF







CYLINDER LINER

ISUZU

4JG2

95.400

DRY, SF







CYLINDER LINER

ISUZU

4FB1, 4FC1

84.000

DRY, SF

STD




CYLINDER LINER

ISUZU

4JA1

93.000

DRY, FF

STD




CYLINDER LINER

ISUZU

4JB1

93.000

DRY, FF

STD




CYLINDER LINER

ISUZU

6HE1

110.000

DRY, FF




PHOSPHATED

CYLINDER LINER

ISUZU

6HH1

110.000

DRY, SF







CYLINDER LINER

ISUZU

6HH1

110.000

DRY, FF




PHOSPHATED

CYLINDER LINER

IVECO

4J

94.400

DRY, SF







CYLINDER LINER

IVECO

203A, 61

130.000

DRY, FF

STD




CYLINDER LINER

IVECO

8460.41.320.406C, K, L

120.000

WET, FF

STD

PHOSPHATED

CYLINDER LINER

JAC

25

100.080

DRY, SF

REVISED




CYLINDER LINER

JAC




102.080

DRY, SF

SHORT




CYLINDER LINER

JAC




102.080

DRY, FF

STD




CYLINDER LINER

JAC




102.080

DRY, SF

LONG




CYLINDER LINER

JAC




102.080

DRY, FF

STD




CYLINDER LINER

JAC

26

105.030

DRY, SF







CYLINDER LINER

JAGUAR




92.075

DRY, SF




L 177.800mm

CYLINDER LINER

JAGUAR




92.075

DRY, SF




L 246.050mm

CYLINDER LINER

JOHN DEERE




102.000

WET, FF







CYLINDER LINER

JOHN DEERE

1520, JD410, 2030, 6600

102.000

WET, FF

STD

ID 102mm, OD 111 mm, L 196.800mm

CYLINDER LINER

JOHN DEERE

1520, JD410, 2030, 6600

102.000

WET, FF

STD

ID 102.020mm, OD 111.050mm, L 196.500mm

CYLINDER LINER *

JOHN DEERE

3179D, 2040, 2140, 2150, 3179T, 4239D, 2350, 2355, 4239T, 310C, 6359D

106.500

WET, FF

STD




CYLINDER LINER *

JOHN DEERE

4267D, 4267T

106.500

WET, FF

STD

L 218.000mm

CYLINDER LINER *

JOHN DEERE

3179D, 2040, 2140, 2150, 3179T, 4239D, 2350, 2355, 4239T, 310C, 6359D, T

106.500

WET, FF

STD

OD 115.700mm, L 196.900mm, CD 125.880mm, CT 6.000mm

CYLINDER LINER *

JOHN DEERE

3179D, 2040, 2140, 2150, 3179T, 4239D, 2350, 2355, 4239T, 310C, 6359D, T

106.500

WET, FF

STD

L 196.900mm

CYLINDER LINER *

JOHN DEERE

3179D, 2040, 2140, 2150, 3179T, 4239D, 2350, 2355, 4239T, 310C, 6359D, T

106.525

WET, FF

STD




CYLINDER LINER

JOHN DEERE

4276D, 4276T, 6414D, 6414T

106.500

WET, FF

STD




CYLINDER LINER *

JOHN DEERE

3179D, 2040, 2140, 2150, 3179T, 4239D, 2350, 2355, 4239T, 310C, 6359D, T

106.500

WET, FF

STD

OD 115.720mm, L 197.000mm, CD 125.950mm, CT 6.080mm

CYLINDER LINER

JOHN DEERE

3152D, 4202D, 6303D

98.000

WET, FF

STD

OVERSIZE

CYLINDER LINER *

JOHN DEERE

3152D, 4202D, 6303D

98.000

WET, FF

STD




CYLINDER LINER

KAMAZ

V8

120.000

WET, FF







CYLINDER LINER

KIA

JD K3500

100.000

DRY, FF




PHOSPHATED

CYLINDER LINER

KIA

JD K3500, K3600

100.000

DRY, SF




PHOSPHATED

CYLINDER LINER

KIA

S2

88.900

DRY, SF







CYLINDER LINER

KIA

2.4, BONGO, 2200 CC, S2

88.900

DRY, FF







CYLINDER LINER

KIA

2.7PREGIO

94.500

DRY, FF

STD

PHOSPHATED

CYLINDER LINER

KIA

2.7PREGIO

94.500

DRY, SF

STD

OD 97.500mm, L 167.680mm

CYLINDER LINER

KIA

2.7PREGIO

94.500

DRY, SF




OD 97.470mm, L 166.000mm

CYLINDER LINER

KIA

EF 750

137.000

WET, FF







CYLINDER LINER

KIA

3 PREGIO

98.013

DRY, FF

STD




CYLINDER LINER

KIA

3 PREGIO

98.013

DRY, SF

STD




CYLINDER LINER

KIA

3 PREGIO

98.013

DRY, FF

STD

PHOSPHATED

CYLINDER LINER

KIA

R2

86.000

DRY, SF







CYLINDER LINER

KIA

2.7BESTA

93.013

DRY, SF

STD




CYLINDER LINER

KIA

2.7BESTA

93.000

DRY, FF

STD




CYLINDER LINER

KIA

ZB

92.000

DRY, FF







CYLINDER LINER

KIA

K2400

92.000

DRY, FF







CYLINDER LINER

KIA

K2400

92.000

DRY, SF







CYLINDER LINER

KIA

2400

92.000

DRY, SF







CYLINDER LINER

KIA

2400

92.000

DRY, FF







CYLINDER LINER

KOMATSU

BEPC2203, S6D 105, 6D 105, S4D 105, 4D 105

105.000

WET, FF







CYLINDER LINER

KOMATSU




95.000

WET, FF







CYLINDER LINER

KOMATSU

D30E16B, D50A15C

97.500

WET, SF







CYLINDER LINER

KOMATSU

4 D 105.1, 6 D 105.1, 6 D 105.2

105.000

WET, FF

STD




CYLINDER LINER

KOMATSU

4 D 105.1, 6 D 105.1, 6 D 105.2

105.000

WET, FF

STD




CYLINDER LINER

KOMATSU

S6D 125, BE300

125.000

WET, FF




TUFFTRIDED

CYLINDER LINER

KOMATSU

6D 125, BD65

125.000

WET. FF




WITHOUT TUFFTRIDED

CYLINDER LINER

L.I




108.000

DRY, SF







CYLINDER LINER

L.I.

DANYA

102.000

DRY, SF







CYLINDER LINER

LANCER




76.900

DRY, SF







CYLINDER LINER

LANCIA

831D.000

82.600

DRY, SF







CYLINDER LINER

LANDROVER

10J, 12J, 19J

90.475

DRY, SF

STD




CYLINDER LINER

LEYLAND

4.98, 6.98

98.000

WET, FF

STD

PHOSPHATED

CYLINDER LINER

LEYLAND

400, 401, 402 N A, 410T, 411T, 420T

107.220

DRY, FF







CYLINDER LINER

LEYLAND

4.98, 6.98

98.000

WET, FF

STD

PHOSPHATED

CYLINDER LINER

LEYLAND

400, 401, 402 N A, 410T, 411T, 420T

107.230

DRY, SF







CYLINDER LINER

LEYLAND

0680 PP

127.000

DRY, FF

STD

ID CHROME

CYLINDER LINER

LEYLAND

12J

90.475

DRY, SF

STD




CYLINDER BLOCK

LISTER

SR

88.900

AIR COOLED




PHOSPHATED

CYLINDER BLOCK

LISTER

ST1

95.250

AIR COOLED




PHOSPHATED

CYLINDER BLOCK

LISTER

LR

76.200

AIR COOLED







CYLINDER BLOCK

LISTER

HR

108.000

AIR COOLED




PHOSPHATED

CYLINDER LINER

LISTER

L.D.

76.000

DRY, SF







CYLINDER LINER

MACK

E7

123.830

WET, FF

STD

NEW MODEL

CYLINDER LINER

MACK

E7

123.830

WET, FF

STD

OLD MODEL

CYLINDER LINER

MACK

ENDT673, 5, 6 ETZB673E, ETYB673E, ENDTB675C, E6-200

123.830

DRY, FF







CYLINDER LINER

MAN

DO 836, DO 846

108.000

DRY, FF

STD




CYLINDER LINER

MAN

D0824

108.000

DRY, FF

STD




CYLINDER LINER

MAN

D0824

108.000

DRY, SF

011




CYLINDER LINER

MAN

D0824, D0826

108.000

DRY, SF

020




CYLINDER LINER

MAN

D0824

108.000

DRY, SF

STD




CYLINDER LINER

MAN

D0824, D0826

108.000

DRY, FF

020




CYLINDER LINER

MAN

D 2866

128.000

WET, FF

STD




CYLINDER LINER

MAN

D 2842, D 2840, D 2848

128.000

WET, FF

STD

PHOSPHATED

CYLINDER LINER

MAN

D2555, SL200, D 2556, D 2565

125.000

WET, FF







CYLINDER LINER

MAN

D2555, SL200, D 2556, D 2565

125.000

WET, FF







CYLINDER LINER

MAN

D0824

108.000

DRY, FF

STD




CYLINDER LINER

MASSEY FERGUSON

A4.212

98.476

DRY, FF

STD




CYLINDER LINER

MASSEY FERGUSON

MF35, MF135 PETROL

87.000

WET, FF




OD 92.820mm

CYLINDER LINER

MASSEY FERGUSON

MF35, MF135 PETROL

87.000

WET, FF




OD 91.750mm

CYLINDER LINER

MASSEY FERGUSON

MF 35 4 CYL.

84.140

DRY, FF







CYLINDER LINER

MAZDA

B2200

86.000

DRY, SF

STD




CYLINDER LINER

MAZDA

B2200

86.000

DRY, FF

STD




CYLINDER LINER

MAZDA

T3000, E3000

95.000

DRY, SF







CYLINDER LINER

MAZDA

T3000, E3000

95.000

DRY, FF







CYLINDER LINER

MAZDA

SL, T3500, T45

100.000

DRY, FF

STD

PHOSPHATED

CYLINDER LINER

MAZDA

SL, T3500, T45

100.000

DRY, SF







CYLINDER LINER

MAZDA

3500

100.000

DRY, SF

STD




CYLINDER LINER

MAZDA

3500

100.000

DRY, SF

020




CYLINDER LINER

MAZDA

3500

100.000

DRY, SF

030

CD 107.900mm, CT 2.550

CYLINDER LINER

MAZDA

3600

100.000

DRY, SF

030

CD 110.000mm, CT 5.000

CYLINDER LINER

MAZDA

S2

88.900

DRY, SF

STD

CD 101.000mm, FD 96.000mm

CYLINDER LINER

MAZDA

S2

88.900

DRY, SF

STD

CD 100.950mm, FD 96.500mm

CYLINDER LINER

MAZDA

S2

88.900

DRY, FF

STD




CYLINDER LINER

MAZDA

2500

88.900

DRY, FF

STD




CYLINDER LINER

MAZDA

XA E2500

88.900

DRY, SF

STD




CYLINDER LINER

MAZDA

JS

94.500

DRY, FF

STD

PHOSPHATED

CYLINDER LINER

MAZDA

W9

95.000

DRY, SF

STD




CYLINDER LINER

MAZDA

R2

86.000

DRY, FF







CYLINDER LINER

MAZDA

R2

86.000

DRY, SF

STD




CYLINDER LINER

MAZDA

RF

86.000

DRY, SF




WITHOUT COLLAR

CYLINDER LINER

MAZDA

RF

86.000

DRY, SF

STD

WITH COLLAR

CYLINDER LINER

MAZDA

RF

86.000

DRY, FF

STD




CYLINDER LINER

MAZDA

WL

92.200

DRY, FF

STD




CYLINDER LINER

MAZDA

WL

92.200

DRY, SF

STD




CYLINDER LINER

MAZDA

WL

93.000

DRY, SF

STD

WITHOUT COLLAR

CYLINDER LINER

MAZDA

WL

93.000

DRY, SF

STD

WITH COLLAR

CYLINDER LINER

MAZDA

WL

93.000

DRY, FF

STD




CYLINDER LINER

MAZDA

HA E3000, HA T3000

95.000

DRY, SF

060

L 189.000mm

CYLINDER LINER

MAZDA

HA E3000, HA T3000

95.000

DRY, SF

060

L 190.000mm

CYLINDER LINER

MAZDA

HA E3000, HA T3000

95.000

DRY, SF

090




CYLINDER LINER

MAZDA

TF T4000

105.500

DRY, SF

STD

OD 109.000mm

CYLINDER LINER

MAZDA

TF T4000

105.500

DRY, SF

STD

OD 109.100mm

CYLINDER LINER

MAZDA

TF T4000

105.500

DRY, FF

STD




CYLINDER LINER

MAZDA

1600

78.000

DRY, SF

OVER SIZE




CYLINDER LINER

MAZDA

1600

78.000

DRY, SF

SHORT




CYLINDER LINER

MAZDA

1600

78.000

DRY, SF







CYLINDER LINER

MAZDA

SP

78.000

DRY, SF







CYLINDER LINER

MAZDA

R2

86.000

DRY, SF

STD




CYLINDER LINER

MAZDA

R2

86.000

DRY, SF

030




CYLINDER LINER

MAZDA

R2

86.000

DRY, FF

STD




CYLINDER LINER

MAZDA

4100

109.000

DRY, SF







CYLINDER LINER

MAZDA

4100

109.000

DRY, FF







CYLINDER LINER

MAZDA

HA E3000, HA T3000

95.000

DRY, FF

STD




CYLINDER LINER

MAZDA

HA E3000, HA T3000

95.000

DRY, FF

060




CYLINDER LINER

MAZDA

SL, T3500

100.000

DRY, FF

STD

PHOSPHATED

CYLINDER LINER

MAZDA

S2

88.900

DRY, FF

STD




CYLINDER LINER

MAZDA

XA

88.900

DRY, FF

STD




CYLINDER LINER

MAZDA

R2

86.000

DRY, SF

STD




CYLINDER LINER

MAZDA

R2

86.000

DRY, FF

STD




CYLINDER LINER

MAZDA

XB, ZB

92.000

DRY, FF







CYLINDER LINER

MAZDA

XB, ZB

92.000

DRY, SF







CYLINDER LINER

MERCEDES BENZ

OM 602

89.000

DRY, SF




CD 97.000mm, CT 4.700mm

CYLINDER LINER

MERCEDES BENZ

OM 602

89.000

DRY, SF




CD 96.500mm, CT 4.740mm

CYLINDER LINER

MERCEDES BENZ

OM 616, OM 617

91.000

DRY, SF

STD




CYLINDER LINER

MERCEDES BENZ

OM 616, OM 617

90.900

DRY, SF

STD




CYLINDER LINER

MERCEDES BENZ

OM 616, OM 617

90.900

DRY, SF

010




CYLINDER LINER

MERCEDES BENZ

OM 616, OM 617

91.000

DRY, SF

020




CYLINDER LINER

MERCEDES BENZ

OM 314, OM 352, OM 352A

97.000

DRY, SF

020




CYLINDER LINER

MERCEDES BENZ

OM 314

97.000

DRY, SF

020

L 225.000mm

CYLINDER LINER

MERCEDES BENZ

OM 452, OM 352

97.000

DRY, SF

020

L 222.000mm

CYLINDER LINER

MERCEDES BENZ

OM 352A

97.000

DRY, FF

STD




CYLINDER LINER

MERCEDES BENZ

OM 352, OM 352A

97.000

DRY, SF

STD




CYLINDER LINER

MERCEDES BENZ

OM 314, OM 352, OM 366, OM 364

97.500

DRY, SF







CYLINDER LINER

MERCEDES BENZ

OM 352

97.000

DRY, SF




L 223.000mm

CYLINDER LINER

MERCEDES BENZ

OM 352

97.000

DRY, SF




L 222.000mm

CYLINDER LINER

MERCEDES BENZ

OM 452

97.000

DRY, SF

040

L 222.500mm

CYLINDER LINER

MERCEDES BENZ

OM 452

97.000

DRY, SF

040

L 223.000mm, WITH COLLAR

CYLINDER LINER

MERCEDES BENZ

OM 452

97.000

DRY, SF

040

L 223.000mm, WITHOUT COLLAR

CYLINDER LINER

MERCEDES BENZ

OM 355

128.000

DRY, SF




L 287.500mm, CT 5.550mm

CYLINDER LINER

MERCEDES BENZ

OM 355

128.000

DRY, SF




L 290.000mm, CT 7.000mm

CYLINDER LINER

MERCEDES BENZ




128.000

WET, FF

STD




CYLINDER LINER *

MERCEDES BENZ




128.000

WET, FF

STD

PHOSPHATED

CYLINDER LINER *

MERCEDES BENZ

OM 447, OM 477, OM 449

128.000

WET, FF

STD




CYLINDER LINER *

MERCEDES BENZ

OM 422

128.000

WET, FF

STD

PHOSPHATED, CHROME PLATED

CYLINDER LINER *

MERCEDES BENZ

OM 447 LA, 449A

128.000

WET, FF

STD




CYLINDER LINER *

MERCEDES BENZ

OM 457

128.000

WET, FF

STD




CYLINDER LINER

MERCEDES BENZ

OM 615.913, 915, 615.910

87.000

DRY, SF

STD




CYLINDER LINER

MERCEDES BENZ

OM 601.911, 912

87.000

DRY, SF

STD




CYLINDER LINER

MERCEDES BENZ

OM 601.911, 912

87.000

DRY, SF

010




CYLINDER LINER

MERCEDES BENZ

OM 601.911, 912

87.000

DRY, SF

020




CYLINDER LINER *

MERCEDES BENZ

OM 424, 424A, 424LA, 441A, 441Euro1, 441LA, 441Euro1 & 2, 442A, 442LA, 442LA, 443A Turbocharged, 444LA

128.000

WET, FF

STD




CYLINDER LINER

MERCEDES BENZ

OM 421, 422

128.000

WET, FF

STD

PHOSPHATED, WITHOUT SERRATION

CYLINDER LINER

MERCEDES BENZ

OM 421, OM 424

128.000

WET, FF

STD

PHOSPHATED

CYLINDER LINER *

MERCEDES BENZ

OM 421, OM 442, OM 424

128.000

WET, FF

STD

PHOSPHATED, WITH SERRATION

CYLINDER LINER *

MERCEDES BENZ

OM 423, OM 422, OM 442

128.000

WET, FF

STD

PHOSPHATED

CYLINDER LINER

MERCEDES BENZ

OM 904, OM 906

102.000

DRY, SF

STD




CYLINDER LINER

MERCEDES BENZ

OM 401, OM 402, OM403

125.000

WET, FF

STD




CYLINDER LINER

MERCEDES BENZ

OM 403

125.000

WET, FF

STD




CYLINDER LINER *

MERCEDES BENZ

OM 403, OM 404, OM 401, OM 402

125.000

WET, FF

STD

PHOSPHATED

CYLINDER LINER *

MERCEDES BENZ

OM 401, OM 402, OM 403

125.000

WET, FF




PHOSPHATED

CYLINDER LINER *

MERCEDES BENZ

OM 443, 444

130.000

WET, FF

STD




CYLINDER LINER

MERCEDES BENZ

OM 409, A, HA, H, OM 407

125.000

WET, FF

STD




CYLINDER LINER

MERCEDES BENZ

OM 421, OM 424, OM 409, A, HA, H, OM 407

125.000

WET, FF

STD




CYLINDER LINER *

MERCEDES BENZ

OM 541, OM 542, OM 941, OM 942, OM 501LA, ACTROS

130.000

WET, FF

STD




CYLINDER LINER

MERCEDES BENZ

M110

85.000

DRY, SF

STD




CYLINDER LINER

MERCEDES BENZ

OM 360

115.000

DRY, SF







CYLINDER LINER

MIDLAND

1300

68.840

DRY, SF

STD




CYLINDER LINER

MISTUBISHI LANCER

4G32

77.000

DRY, SF







CYLINDER LINER

MITSUBISHI

6D15

113.017

WET, FF







CYLINDER LINER

MITSUBISHI

8DC91, 8DC91A

135.000

DRY, FF







CYLINDER LINER

MITSUBISHI

6D15

113.017

WET, SF







CYLINDER LINER

MITSUBISHI

G12 GOLD

74.500

DRY, SF







CYLINDER LINER

MITSUBISHI

4D30, 4D31

100.000

DRY, SF

STD




CYLINDER LINER

MITSUBISHI

4D30, 4D31

100.000

DRY, FF

STD




CYLINDER LINER

MITSUBISHI

4D34

104.000

DRY, SF

STD




CYLINDER LINER

MITSUBISHI

4D34, 4D34T

104.000

DRY, FF







CYLINDER LINER

MITSUBISHI

4D55, 4D56

91.100

DRY, FF

STD




CYLINDER LINER

MITSUBISHI

4D55, 4D56

91.100

DRY, SF

STD

WITH COLLAR

CYLINDER LINER

MITSUBISHI

4D55, 4D56

91.100

DRY, SF

STD

WITHOUT COLLAR

CYLINDER LINER

MITSUBISHI

4DR5, 6DR5

92.000

DRY, SF







CYLINDER LINER

MITSUBISHI

4DR5, 6DR5

92.000

DRY, FF

STD




CYLINDER LINER

MITSUBISHI

4D30, 4D31

100.000

DRY, SF

STD




CYLINDER LINER

MITSUBISHI

4D30, 4D31

100.000

DRY, FF

STD




CYLINDER LINER

MITSUBISHI

4D32

104.000

DRY, SF







CYLINDER LINER

MITSUBISHI

4D32

104.000

DRY, FF







CYLINDER LINER

MITSUBISHI

6D16T

118.000

DRY, FF

STD

PHOSPHATED

CYLINDER LINER

MITSUBISHI

6D16

118.000

DRY, FF

STD




CYLINDER LINER

MITSUBISHI

6D16

118.000

DRY, SF

STD




CYLINDER LINER

MITSUBISHI

4M40

95.000

DRY, FF

STD




CYLINDER LINER

MITSUBISHI

4M40

95.000

DRY, SF

STD




CYLINDER LINER

MITSUBISHI

6D14

110.000

WET, FF

STD




CYLINDER LINER

MITSUBISHI

6D14

110.000

WET, SF

STD




CYLINDER LINER

MITSUBISHI

4G30, 4G36, KE44, KE46

73.025

DRY, SF







CYLINDER LINER

MITSUBISHI

4G41

76.200

DRY, SF







CYLINDER LINER

MITSUBISHI

4D33

108.000

DRY, SF







CYLINDER LINER

MITSUBISHI

G11 GOLD

69.000

DRY, SF







CYLINDER LINER

MITSUBISHI

6D22

130.000

WET, FF







CYLINDER LINER

MITSUBISHI L200

L200

85.500

DRY, SF







CYLINDER LINER

MWM

D229

102.000

WET, FF







CYLINDER LINER

NISSAN

A12

73.500

DRY, SF







CYLINDER LINER

NISSAN

A14

76.500

DRY, SF







CYLINDER LINER

NISSAN

SD23, SD25

89.000

DRY, SF







CYLINDER LINER

NISSAN

SD23, SD25

89.000

DRY, FF

STD




CYLINDER LINER

NISSAN

TD23

89.000

DRY, FF

STD




CYLINDER LINER

NISSAN

TD25

92.900

DRY, SF

STD




CYLINDER LINER

NISSAN

TD25

92.900

DRY, FF

STD




CYLINDER LINER

NISSAN

TD27

96.000

DRY, SF

STD




CYLINDER LINER

NISSAN

ND6

110.000

DRY, FF

020




CYLINDER LINER

NISSAN

ND6

110.040

DRY, SF

020




CYLINDER LINER

NISSAN

PD6, PD6T

125.000

DRY, FF

STD




CYLINDER LINER

NISSAN

PD6, PD6T

125.000

DRY, SF

020




CYLINDER LINER

NISSAN

FD6, FD6T

100.000

WET, FF

STD

CD 118.000mm, CT 8.060mm

CYLINDER LINER

NISSAN

FD6, FD6T

100.000

WET, FF

STD

CD 117.940mm, CT 8.000mm

CYLINDER LINER

NISSAN

FE6T

108.000

DRY, SF

STD

PHOSPHATED

CYLINDER LINER

NISSAN

FD46

108.000

DRY, SF

STD

PHOSPHATED

CYLINDER LINER

NISSAN

FD35

102.500

WET, FF

STD




CYLINDER LINER

NISSAN

BD30T, BD30

96.000

DRY, FF

STD




CYLINDER LINER

NISSAN

BD30T, BD30

96.000

DRY, SF

STD




CYLINDER LINER

NISSAN

ED33

100.000

WET, SF

STD




CYLINDER LINER

NISSAN

PE6(T)

133.000

DRY, FF

STD




CYLINDER LINER

NISSAN

PE6(T)

133.000

DRY, SF

STD




CYLINDER LINER

NISSAN

PE6TB

133.000

DRY, FF

STD




CYLINDER LINER

NISSAN

QD32

99.200

DRY, SF

STD

WITH COLLAR