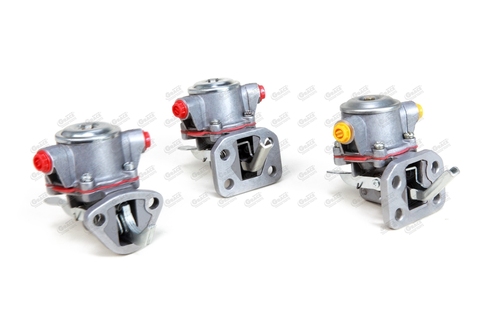 Automotive Oil Pumps
Product Description
Automotive Engine Oil Pumps
We have been exporting high quality and powerful range of Oil Pumps for industrial and automotive engines. The range is developed using optimum grade raw material to ensure smooth and swift running of the vehicles under high temperature. Our collection of Oil Pumps is widely appreciated for high reliability and durability. We have been offering the collection in diverse specifications to meet the varied demands of the clients.
Product Range (Please contact us for complete range)

We can manufacture a vast collection of powerful engine oil pumps according to the demands of the clients and drawings. We have developed a huge variety of oil pumps for automotive, construction, agricultural, heavy duty, and other applications.
(All OE/ OTHER PART NUMBERS ARE FOR IDENTIFICATION REFERENCE ONLY)

| | | | | | |
| --- | --- | --- | --- | --- | --- |
| GG NO. | PART NAME | ENGINE MODEL | VEHICLE MODEL | OTHER REF NO | UOM |
| - | - | - | BEDFORD - B SERIES, C3 SERIES, D SERIES, D3 SERIES, J SERIES, K SERIES, M SERIES, N SERIES, P SERIES, R SERIES, S SERIES, S1 SERIES, S2 | - | - |
| OPM 5021.01 | OIL PUMP | BEDFORD - 300 | SERIES, S3 SERIES, SA SERIES, SB SERIES, SC SERIES, SL SERIES, SS SERIES, T SERIES, TFP SERIES, TJ SERIES, TK SERIES, TKV SERIES, TL SERIES, VA SERIES | OE:6335132 | PC |
| OPM 5022.01 | OIL PUMP | BEDFORD - 500 PHASE II | BEDFORD - TM SERIES | OE:91049605, 91049850, 91084945 | PC |
| OPM 5023.01 | OIL PUMP | BMC - 1.5L | - | OE:12H2550 | PC |
| OPM 5024.01 | OIL PUMP | BMC - 1.8L | - | OE:HE5975 | PC |
| OPM 5025.01 | OIL PUMP | BMC - TRUCK- LEYLAND TYPE | - | OE:86K1583 | PC |
| OPM 5014.01 | OIL PUMP | CATERPILLAR - 3304, 3306 | - | OE:4W2448 | PC |
| OPM 5015.01 | OIL PUMP | CUMMINS - 4-B, 4, 4 | - | OE:3926202, 3930336, 3937027 | PC |
| OPM 5026.01 | OIL PUMP | CUMMINS - 6-B, 6, 6 | - | OE:3926203, 3930337, 3937404, 3941742 | PC |
| OPM 5027.01 | OIL PUMP | CUMMINS - 6-CT, 6 | - | OE:3800828, 3802278, 3930338 | PC |
| OPM 5029.01 | OIL PUMP | DEUTZ - F3L912, F3L913, F4L912 | DEUTZ - TRACTOR | OE:2130440, 4157010, 4158299, 4159964, 4230651, 4231307 | PC |
| OPM 5011.01 | OIL PUMP | FORDSON TRACTOR - 3.152, 592E | - | - | PC |
| OPM 5036.01 | OIL PUMP | JOHN DEERE - 3164D, 3179D, 4039T, 4202D, 4219D, 4239D, 4239T | JOHN DEERE - 1040, 1140, 1350, 1550, 1630, 1640, 1750, 1840, 1850, 1950, 2040, 2130, 2140, 2250, 2450, 2650, 2850, 3030, 3040, 3050, 3130, 3140, 3350, 3640, 4050 | OE:14760, AR62979, RE35685, RE55343DD | PC |
| OPM 5038.01 | OIL PUMP | LAND ROVER - 2.25 DIESEL, 2.25 PETROL | - | OE:ERC5531 | PC |
| OPM 5039.01 | OIL PUMP | LAND ROVER 200TDI | - | - | PC |
| OPM 5040.01 | OIL PUMP | LAND ROVER LR | - | OE:513640F1 | PC |
| OPM 5062.01 | OIL PUMP | MACK E6 | - | OE:315GC445G | PC |
| OPM 5063.01 | OIL PUMP | MACK E7 | - | OE:315GC459BM3 | PC |
Contact Us
501, VIP Plaza, New Link Road, Opp. Fame Adlabs, Andheri (W), Mumbai, Maharashtra, 400053, India
Phone :91-22-40378888/26734439/55568900