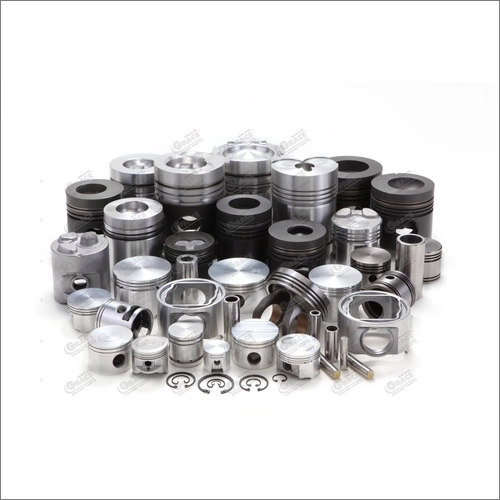 Pistons
Product Description
Pistons
We are recognized as one of the profound manufacturers and exporters of Pistons. At our end, a wide range of automotive parts is offered to our clients in varied specifications. Highly acclaimed for its features like low thermal expansion, resistance to surface abrasion and high strength-to-mass ratio, our offered Pistons are accurately manufactured from high grade raw materials. The entire stock of this product is made from aluminum and cast iron. Our clients can easily avail these automotive parts from us at economical prices.
Further Details
Garima Global can provide both Cast Iron and Aluminium pistons. Aluminium pistons have advantages like low weight, high thermal conductivity, simple production, high reliability, very good recycling properties and high fatigue resistance. Cast iron pistons are very competitively priced and used for lowers-speed applications like agricultural machinery. We also provide pistons used in Air-Brake Compressors of Bendix, Midland, Wabco etc.

We provide ring carrier pistons of the latest generation of commercial vehicles, agricultural machinery and other heavy duty engines. Equipped with cooling channels and ring carriers, these aluminum pistons cast in gravity die casting remain a preferred economic choice. Yet, commercial vehicle engines of the highest power classes place even greater demands on pistons. In response to these requirements, Garima Global provides forged steel articulated pistons, which has proven to be highly effective in this regard.


Pistons Made of


Articulated (Aluminium Skirt + Forged Steel Crown)
Product Range (Please contact us for complete range)
We can develop pistons as per customer samples and / or drawings. We have developed more than 500 pistons for agricultural, heavy duty, automotive, construction and other applications.
(All OE/ OTHER PART NUMBERS ARE FOR IDENTIFICATION REFERENCE ONLY)

| GG NO. | PART NAME | ENGINE MODEL | VEHICLE MODEL | OTHER REF NO | UOM |
| --- | --- | --- | --- | --- | --- |
| - | - | - | BEDFORD - D SERIES, J SERIES, K SERIES, KD SERIES, KEA SERIES, KEL, KEL SERIES, KFA SERIES, KFL, KFL SERIES, KFS, KFS SERIES, KFT, KFT SERIES. | - | - |
| PST 5005.01 | PISTON | BEDFORD - 330 | KGA SERIES, KGL, KGL SERIES, KGLS, KGLS SERIES, KGT, KGT SERIES, M SERIES, N SERIES, P SERIES, R SERIES, S SERIES, T SERIES, TJ SERIES, TK, TK SERIES, TKV SERIES, TL SERIES, VA SERIES. | - | PC |
| PST 5151.01 | PISTON | BELARUS - MTZ 80 | - | - | PC |
| PST 5154.01 | PISTON | BELARUS - T25 | - | - | PC |
| PST 5037.01 | PISTON | BENDIX - TF 1000, TF 500 | - | - | PC |
| PST 5037.02 | PISTON | BENDIX - TF 1000, TF 500 | - | - | PC |
| PST 5037.03 | PISTON | BENDIX - TF 1000, TF 500 | - | - | PC |
| PST 5037.04 | PISTON | BENDIX - TF 1000, TF 500 | - | - | PC |
| PST 5037.05 | PISTON | BENDIX - TF 1000, TF 500 | - | - | PC |
| PST 5033.01 | PISTON | BENDIX - TF 400 | - | - | PC |
| PST 5033.02 | PISTON | BENDIX - TF 400 | - | - | PC |
| PST 5033.03 | PISTON | BENDIX - TF 400 | - | - | PC |
| PST 5033.04 | PISTON | BENDIX - TF 400 | - | - | PC |
| PST 5033.05 | PISTON | BENDIX - TF 400 | - | - | PC |
| PST 5034.01 | PISTON | BENDIX - TF 501 | - | - | PC |
| PST 5034.02 | PISTON | BENDIX - TF 501 | - | - | PC |
| PST 5034.03 | PISTON | BENDIX - TF 501 | - | - | PC |
| PST 5034.04 | PISTON | BENDIX - TF 501 | - | OE:745-28211 | PC |
| PST 5034.05 | PISTON | BENDIX - TF 501 | - | - | PC |
| PST 5034.06 | PISTON | BENDIX - TF 501 | - | OE:29704 | PC |
| PST 5034.08 | PISTON | BENDIX - TF 501 | - | OE:29705 | PC |
Contact Us
501, VIP Plaza, New Link Road, Opp. Fame Adlabs, Andheri (W), Mumbai, Maharashtra, 400053, India
Phone :91-22-40378888/26734439/55568900